We harvest a new energy solution
in harmony with nature's carbon cycle.
Walk through a field of new grain, green with fresh chlorophyl, and feel the sun on your face as it demonstrates how photosynthesis works. Breathe in air, and you're absorbing the oxygen the plants are breathing out. Exhale carbon dioxide, and the plants take it in and convert the carbon into cellulosic sugars and lignin, the woody part of the plant.
Carbon, though not plentiful, forms more compounds than all other elements combined. The continual exchange of carbon among the reservoirs or "sinks" where it's stored (earth, atmosphere, plants, oceans, animals) is a natural part of the whole cycle of life.
Continuing to disrupt that cycle by burning fossil carbon has endangered life as we know it, making human intervention essential. For New Energy Blue, it's processing the dry biomass left behind after the annual corn, wheat, and barley harvest and from the leftovers (bagasse) from sugar cane processing. It's a new waste-to-energy solution that helps restore nature's balance.
Our biomass takes its energy from the sun
Every morning, the sun makes a fresh delivery of life-giving heat and light. Farmers know that all plants select the spectrum of sunlight they need to grow. As leaves, stems, and roots absorb carbon dioxide and water, the sun's radiant energy transforms those molecules into glucose, the plant's food. And oxygen is released into the air. Chemically, it looks like this:
Light energy + 6CO2 + 6H2O → C6H12O6 (sugar) + 6O2
Much of the energy stored in the plant remains after the harvest, in the form of cellulosic sugars and lignin, which we'll turn into bioenergy. It's replenished annually as new crops are grown, in harmony with the seasons and with gratitude for the sun.
and draws its carbon from the atmosphere.
Carbon dioxide accounts for about 79% of all U.S. greenhouse gases released due to human activity. About 33% of this CO2 comes from transporting people and goods.
Plants, on the other hand, absorb nearly a third of all the carbon dioxide emitted by humans every year. Crops like wheat, corn, and barley keep doing their part. But the missed opportunity has been recycling the stalks and stems by converting them into renewable energy. Now we're on the verge of doing what no one else has done: make cellulosic ethanol and clean lignin biofuel and binder commercially, profitably, and sustainably.
By recycling what's left behind in farm fields,
In refining biomass, we focus on not just reducing CO2 and healing the climate, but also helping the farmer and improving the soil. So we buy our wheat straw or corn stalks from farmers who work with us using best farming and cover-crop practices to sequester even more carbons in the earth.
When a field is harvested, we collect a portion of the straw or stalks, gathered in clean windrows then baled. Taking half can actually increase the farmer's crop yield in the following years. What remains enriches the soil organics as well as providing a practical check on wind and water erosion.
our clean-tech replaces fossil fuels and chemicals.
We're not the only clean-tech solution to the climate problem. But New Energy Blue offers the most overlooked, undervalued, and game-changing. We've braided a new bundle of proven technologies that can deliver zero-carbon or even carbon-negative renewables to replace the fossil fuels and chemicals produced by oil and gas refining.
Yes, wind turbines and solar panels play their part in reducing fossil burning. But as look-alike iterations of lithium battery cars rush into production, only environmental dilletantes think electrifying everything is the answer. Millions of cars and trucks with internal combustion engines will need our cellulosic ethanol to dramatically cut CO2 and other harmful emissions.
Meanwhile short-term thinking plunges into cracking fossil gas as a substitute for cracking fossil oil. Which ignores the demand for fossil-free jet and diesel fuel, plastics and paints, detergents and solvents, roadways and roofing, cosmetics and waxes—all those biobased products we can help create.
And our process replaces the oil refinery with the New Energy Biomass Refinery.
A paradigm shift is emerging. Our role: bringing you a new energy with an agricultural origin to replace the old energy with a petroleum origin. To accomplish this, we've designed the New Energy Biomass Refinery.
You've never seen anything quite like it, because there's never been anything quite like it. Danish modern in design, it's simply beautiful outside, beautifully simple inside.
Our new proprietary process can yield renewable biobased products that eliminate the demand for unsustainable oil refinery products. So over time, we can eliminate the need for the oil refinery itself. And gradually replace it with a process that's substantially cleaner, safer, kinder to the environment in all phases of its operation, upstream and downstream, and more socially responsible and sustainable.
A refinery that can help turn climate change around instead of adding to it.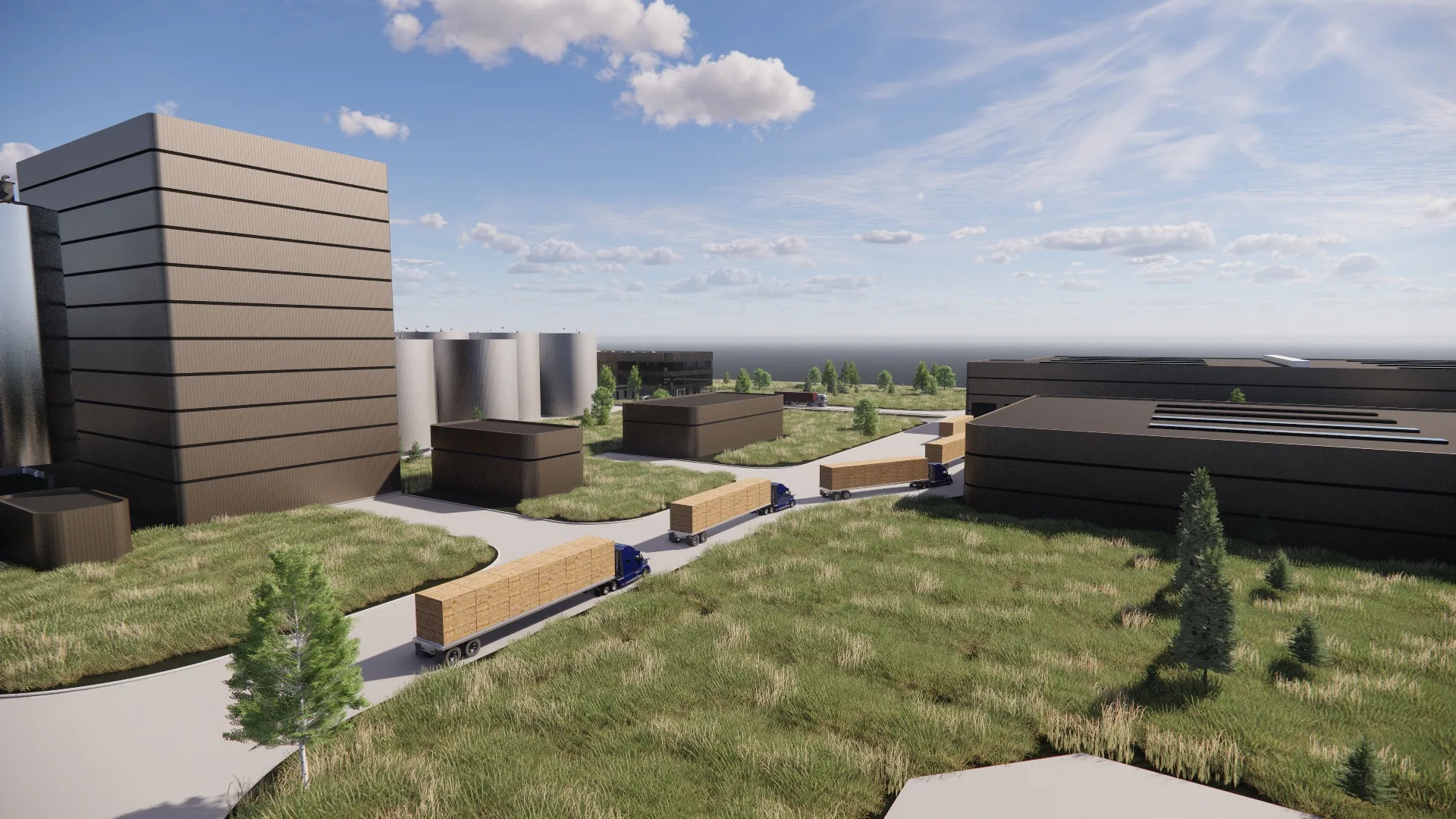 Clean, Green, and Carbon-Lean Refineries.
Argonne National Laboratory found that grain-based ethanol can cut greenhouse gas emissions by 44 to 52% compared to gasoline. Our biomass refining process can deliver even better results: carbon-neutral (100%) or even carbon-negative (~150%) biofuel.
How? First, we start with a new feedstock of agricultural residues and grasses. Second, we purchased a bio-conversion technology discovered and repeatedly proven in Denmark, then braided it with other proven technologies from internationally renowned equipment suppliers. Third, we rely on the same process engineers, enzyme producers, EPCs, etc. we've worked with for years. People who know how to do breakthrough work without breaking a sweat. The result is biomass refining made simpler and more flexible than ever.
Here's a brief walk-through: An automated system unloads trucked-in bales; quality-checks, and inventories, and stores them in a huge biomass barn; loads bales onto feeder trains; shreds the biomass mechanically; then cooks it in our steam reactor. When mixed with special enzymes in large tanks, the botanical structure further breaks down into cellulose and hemicellulose (C5 and C6 plant sugars), which are fermented with yeast then distilled, dehydrated, and evaporated to leave pure plant-based ethanol.
The lignin, which binds the cellulose fibers and gives every plant its structure, is easily separated during the process once it releases the sugars. Because we use no ammonia or acid, ours is a clean lignin, ready to be dried and shipped, and begin replacing oil-based products such as hard plastics, lubricants, and the bitumen binder in road pavement and roof shingles.
Our cellulosic ethanol can be blended with gasoline to clean auto fuel or be further refined into jet fuel or biobased ethylene, the foundation of a range of products including plant-based plastics.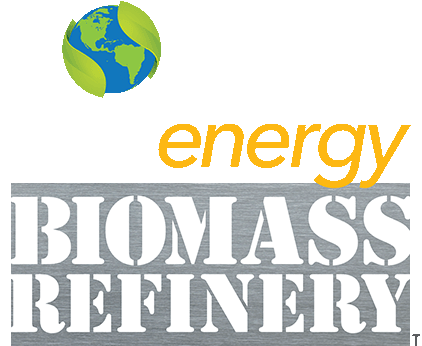 How to keep 1,000,000 tons of CO2 out of the atmosphere.
Calculating the carbon intensity of a process and its products requires expert analysis of complex sets of data. We hired a leading authority with impeccable credentials and high-profile experience to perform a life cycle analysis on our planned operations. The U.S. Department of Energy, Renewable Fuels Association, and the California Air Resources Board have all relied his findings in recent years.  
Here's the bottom line for our first five New Energy Biomass Refineries. Year after, we can expect these five projects to keep over 1,000,000 tons of fossil CO2 out of the atmosphere.
Sit with that figure for a minute. One million tons is about how much CO2 enters the atmosphere every year from 200,000 gasoline-burning cars. Or the 2022 U.S. sales of Buicks and Volvos combined.
5 projects, one million tons, year after year after year. And that's just the beginning.
Big plans for a big country.
We're beginning with a single biomass refinery in north-central Iowa. Short term, we're planning four more clustered close to the first. But we're driven by a dream of how American agriculture, infused with American ingenuity, can transform all the leftovers of the harvest into the next clean energy behind climate healing and world progress.
115 million acres of corn stalks and wheat straw await us each year in the American Midwest alone. Enough for 500 New Energy Biomass Refineries dotting the heartland of America.
If five biomass refineries keep a million tons of CO2 out of the atmosphere, 500 works out to about 100 million tons. Year after year…
Think how far this goes toward reaching America's climate-smart agricultural goals while making the air and water cleaner.
Beginning in 2025, you'll begin to witness the downstream products of oil refining being replaced by our cellulosic ethanol and lignin we'll be producing. Here are a few examples of what lies ahead for those not burying their heads in the tar sands. What will you make of what we're making? What part will your fuels or chemicals play in the bio-based economy?

  Click / Tap

How our next-generation ethanol becomes new pair of sneakers made out of Dow bioplastics.
In the corn fields of Northern Iowa, our biomass refineries will turn corn stalks into the ethanol that becomes bio-ethylene at our future New Energy Chemicals facility in Port Lavaca, Texas.
We chose this site for its proximity to both the Dow Gulf pipeline and transatlantic access to Europe and Asia. To build the project, we picked an experienced leader in the field of industrial conversion of renewable ethanol into a variety of important chemical building blocks, specifically the ethylene Dow needs to make plant-based plastics for their customers and their new green brands.  
The first rail shipments of ethanol from our New Energy Freedom refinery will begin in 2026. New Energy Chemicals will convert low-carbon 2G ethanol gallons produced at the Freedom biomass refinery to poly-grade ethylene and then send it directly by pipeline to Dow Gulf Coast manufacturing operations. When the next New Energy Biomass Refinery comes online, millions more gallons will flow out of the American Midwest, where corn stalks and wheat straw feedstocks are plentiful. And on and on across America's farmland from coast to coast to the American consumer. 
And before you know it, that new pair of sneakers you buy will be made with Iowa corn stalks instead of oil. 

Waste nothing from soil to product.   
New Energy Blue, the clean-tech designer and builder of their biomass refineries that turn corn stalks into lowest-carbon fuels and chemicals, announces the formation of New Energy Farmers LLC and its harvest-tested New Energy Aggregation System ™. "We're tenaciously focused on every impact in our supply chain, from soil to product," says Joe Ahrens, heading up New Energy Farmers business. "For our first five refineries, we expect corn stalks to be the raw material and corn farmers a highest-priority relationship. We're going into business with American farmers. We worked with farmers in Iowa on our developed aggregation system to collect the cleanest corn stalks from each year's harvest and we're also making a substantial investment into the newest farm equipment to the relationship."
Infusing rural communities with economic vitality.
Farmers have got to love us. We give them a second source of revenue from the same crop while they improve and conserve their soil. Biomass aggregation alone can infuse $20-40 million annually into the local farm community from each refinery operation.
New jobs will emerge to gather, store, and transport the biomass at a profit. Building and operating our refinery will expand the number of well-paying jobs. The refinery will generate new revenue to greatly contribute to a substantial GDP boost in the local economy, and raise tax revenues to build new schools, hospitals and infrastructure.
After relationships with local farmers are well established, we plan further research for harvesting the leftovers of their cover crops as well.
We never forget that the origin of our products begins with the people and the land.
What Denmark proved, Iowa is doing.
When Denmark decided to stop burning coal to generate electricity, its scientists began experimenting. They learned how to take the salts, metals, sugars, and nutrients out of wheat straw to cleanly combust it in their power stations. They also invented and repeatedly proved a way to turn wheat straw into cellulosic ethanol and clean lignin.
Several of us at New Energy Blue played significant roles in these efforts.  We've adapted Denmark's biomass conversion process, braided it with other proven technologies, expanded the multiple biomass feedstocks, and created a new way of making the lowest carbon bioenergy. More important, we've created a sustainable, environmentally advanced business model. And Iowa, which leads the U.S. in ethanol production, has embraced it.
We've accelerated our planning for our first biomass refinery, New Energy Freedom, at Mason City, Iowa. Groundbreaking is slated for the spring of 2024, 2G biofuel and lignin flowing before the end of 2025.
The clean, green, American dream has found its home.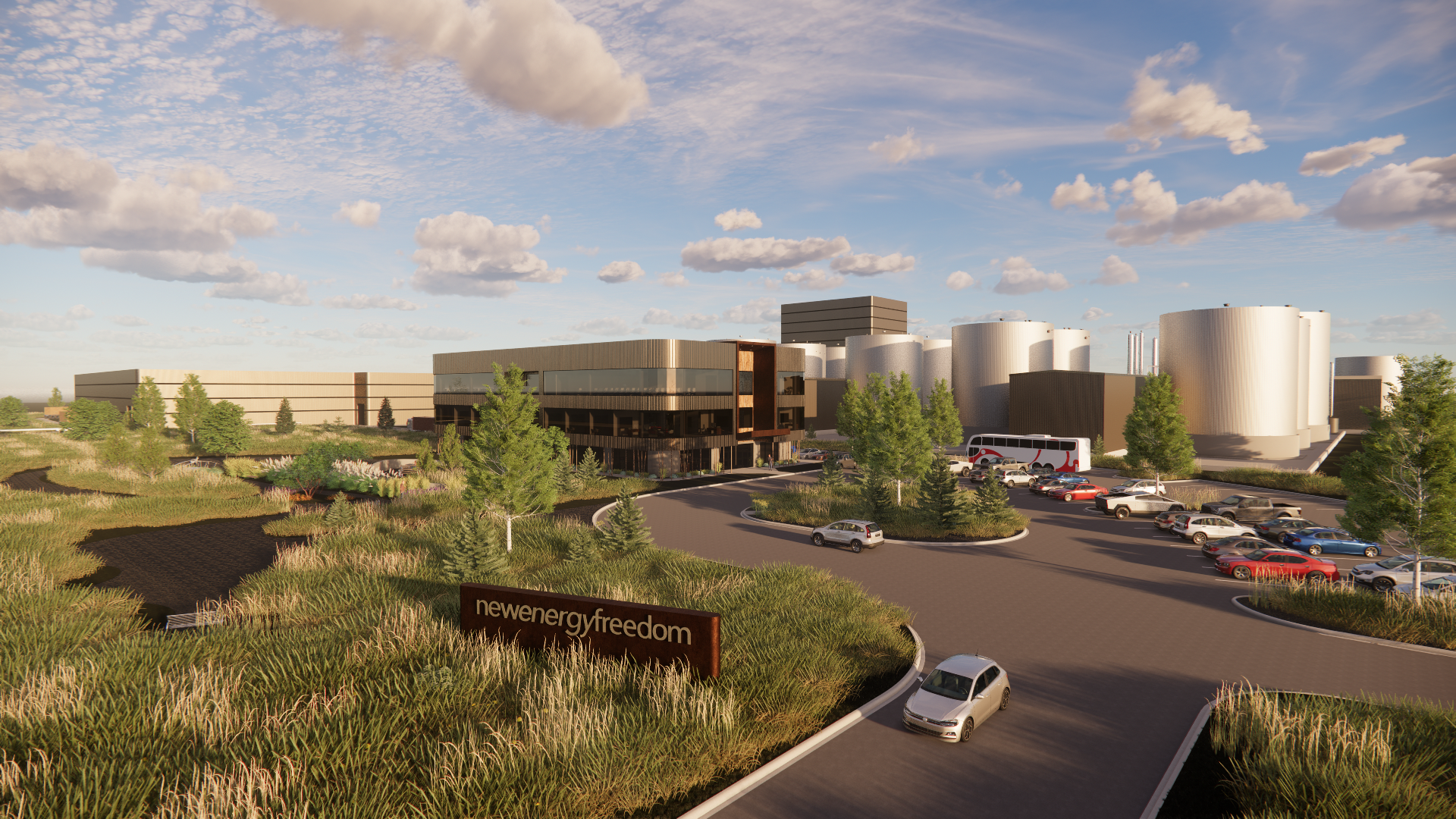 Welcome to the future clean-tech campus where plant-based fuels and chemicals are made from Iowa's crop residues.
New Energy Freedom, coming in late 2025 to Mason City, marks the birth of green manufacturing of the lowest-carbon auto and jet fuel and green chemicals—all made from local corn stalks.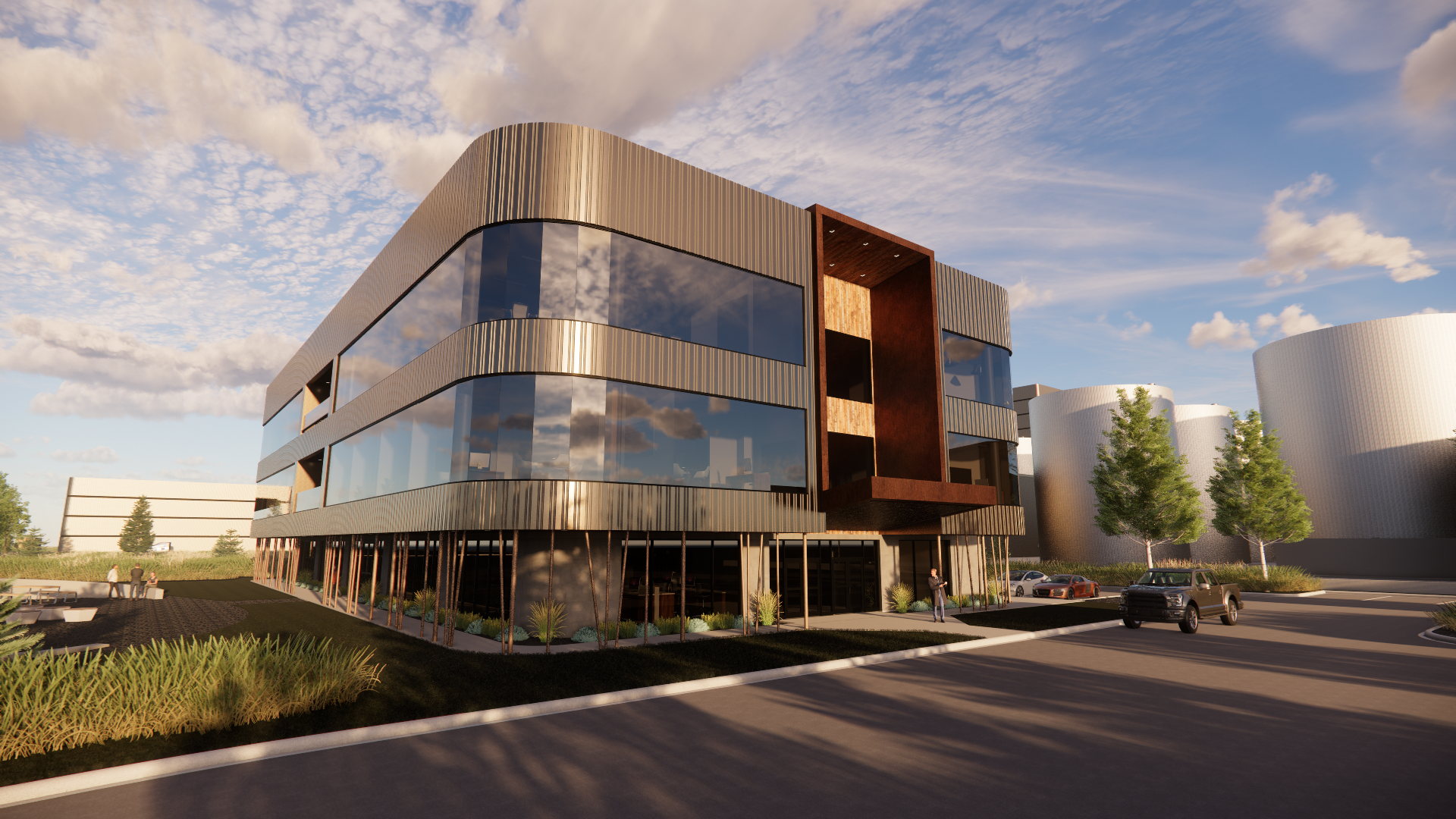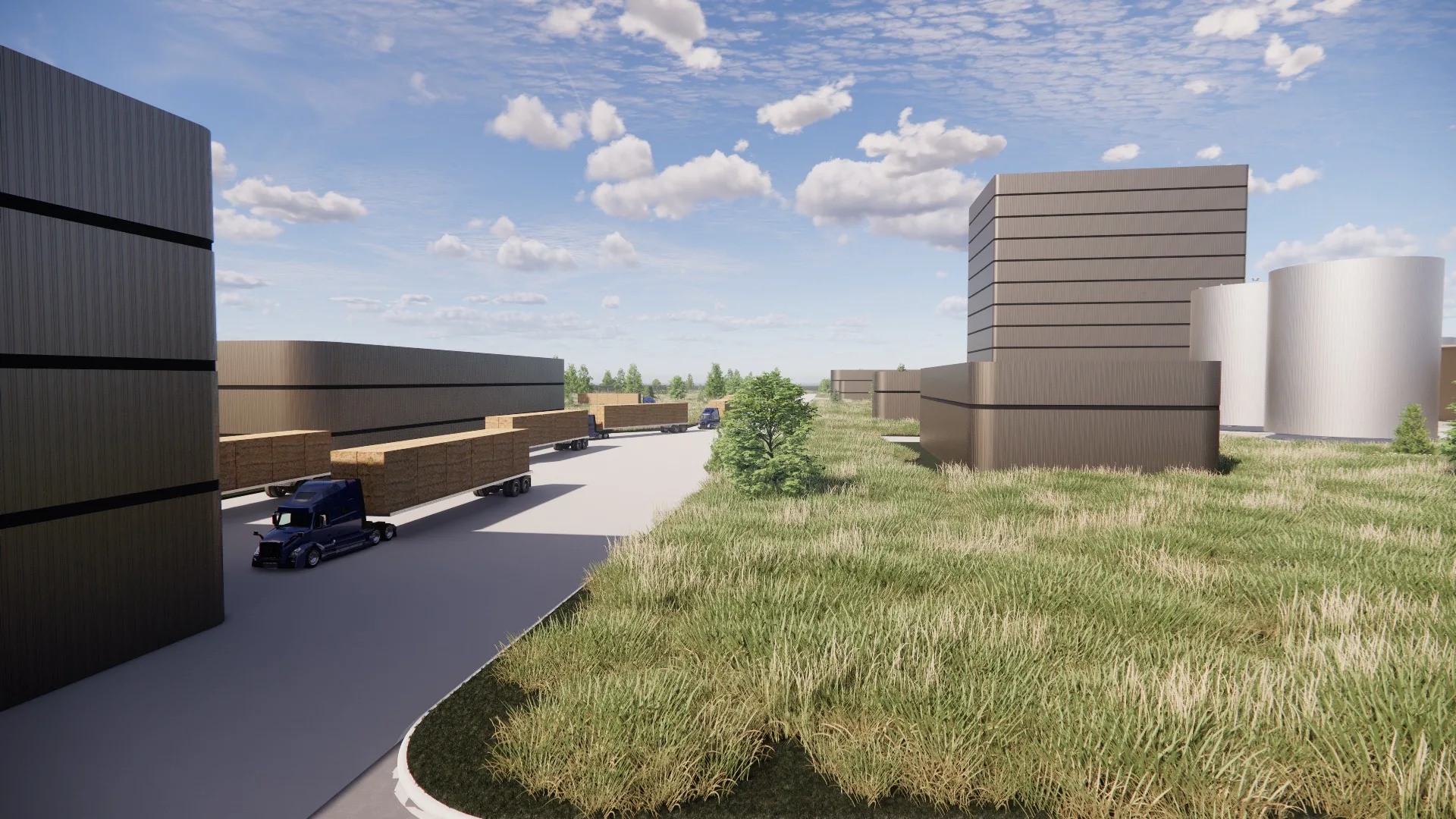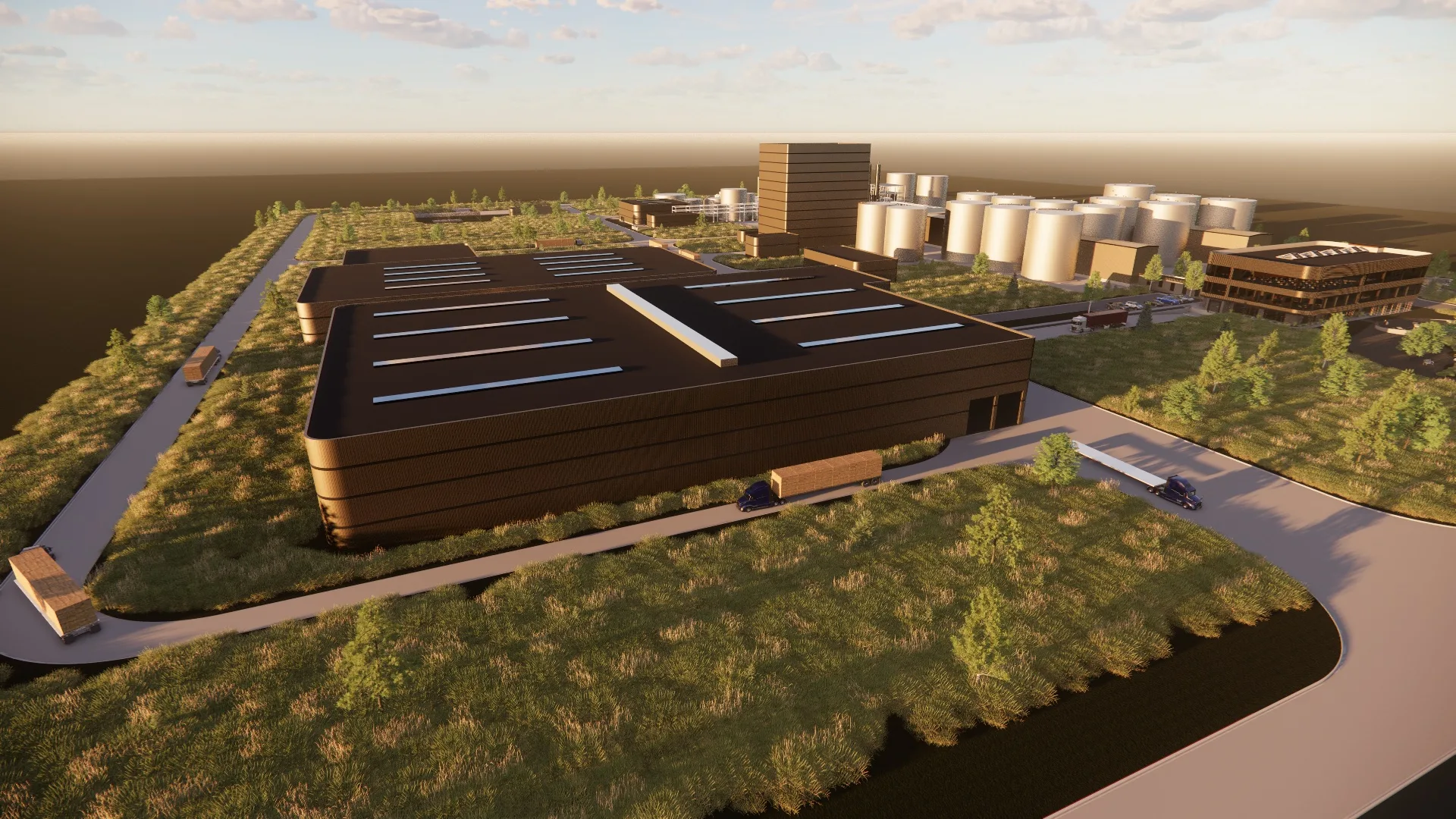 We're not just building a biomass refinery in Mason City, Iowa. New Energy Freedom will also be a knowledge campus, a place of scientific inquiry and collaboration, where we can share what we learn about biomass conversion to biobased products. We intend to work with the local university and area colleges to encourage their own research, as well as the education and training of their students in the field of bioenergy from crop waste. It's an opportunity for these schools to equip the workforce and leadership for tomorrow's biomass businesses.
To support this, the Freedom refinery will have an expanded laboratory where those working on downstream technologies can explore how to use our commercial streams in order to scale up and seize their share of the low-carbon market for biobased energy and chemicals.
We will also invite governments and farm communities from around the globe to witness how enlightened policy creates commercial possibilities.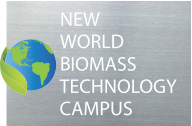 Today the West, tomorrow the rest.
Our current marketplace is the Western Hemisphere. Wherever biomass grows in abundance, we can likely site a biomass refinery. Wherever demand is strong for cellulosic fuel or clean lignin, look to New Energy Blue to supply it.
Not just North and South America but everything in between, including the neighboring islands. Not just corn stalks and small-grain straws, but sugar bagasse, the waste left over from sugarcane processing. And fast-growing tall perennials like switch grass and miscanthus.
In the U.S. alone, 23 million metric tons of oil-derived polyethylene could be replaced by our renewable bioenergy. Around the world, a billion and a half cars need cleaner, lower-carbon fuel to replace gasoline.
There is no end to the world's need. What's necessary is for the world to recognize it.

  Hover / Tap
Corn stover from the America Midwest.
Grain straws from across Canada and Europe
Drought-resistant grasses to hold back the desert.
Mounds of waste from palm oil and other industries.
And from fast growing energy grasses from around the world.
Planting sustainable grasses to restore parched lands.
Warming temperatures are drying out the soil of some once-fertile farmlands till they become inhospitable to agriculture, particularly in the Southwest and West U.S. In 2021, the USDA reported that 1.3 million acres were lost to development and climate change. This loss is mirrored across vast agricultural spans of South America.
Weather extremes like severe drought damage the soil's moisture retention capacity, microbial habitat, and carbon-holding ability. Too little water interrupts the natural cycle of evaporation from soil and vegetation, and solar radiation has a greater warming impact on the atmosphere. A once-virtuous cycle becomes vicious.
Research shows enormous potential for carbon sequestration and improved water retention in soil restored by introducing perennial energy grasses. Our interests clearly align with growers, rhizome nurseries, farm managers, and governments looking to improve their own eco-climates.
In the future, this versatile process of ours can help communities adapt by planting and harvesting fast-growing, drought-tolerant grasses like miscanthus that can restore the land to the point where food crops can again grow bountifully.
Our team: tenacious, talented, experienced.
We've attracted a deeply experienced team, each passionately committed to making our dream of a new bioenergy a commercial reality. Together they give us a full spectrum of the interdisciplinary skills needed to build out our biomass refineries across the grain belts and sugar-growing regions of America, throughout the Western Hemisphere, and wherever biomass is grown around the world.
Consumers, businesses, governments, and industries now have another energy choice, a renewable, sustainable choice, a choice to help clean the atmosphere, clean the water, clean the air. Join us in using our green carbon cure to heal our beautiful blue home.